As social media continues to be a vital part of your business's marketing strategy, you must do your due diligence to stay up to date on any new features a platform may debut. Since the platform is launching a new feature, it will promote and favor creators who use and engage with it, allowing you to further extend your reach. Instagram Reels is the latest feature you can (and should) take advantage of for your business. 
What are Instagram Reels? 
Instagram Reels is a new TikTok-like feature on Instagram that allows users to use tools to record and edit short videos with special effects, such as music, text, or stickers. 
Instagram's newest feature also allows users to share their Reels and explore those produced by other users. 
Users can discover these 3 to 30-second videos from the Reel option at the top of the Explore page. 
How to create a Reel 
The footage you choose for your Reel can either be one continuous video or a series of clips recorded one after the other, but there are specifications one must follow. 
The videos are all in 9:16 portrait mode, must be between three and 30-seconds long, and are only available to mobile users. 
Once you are ready to film a Reel, open Instagram and click the Reels icon at the bottom of the page.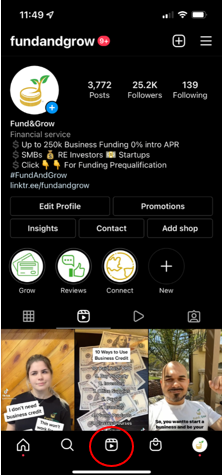 Now, you are viewing others' Reels, but you can click the camera in the top right corner to film your own!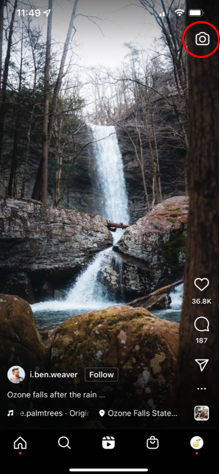 After that, either record your short video by holding down the record button at the bottom of the screen or upload an existing video by clicking the upload button.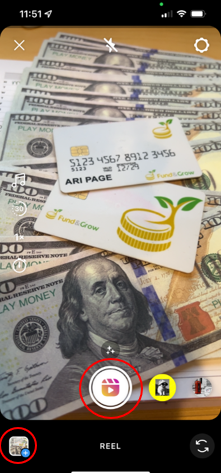 Once you have completed filming or uploading your video, you will have the option to add music, texts, stickers, and more! 
After you are happy with your editing, you can click the "Next" button on the bottom right corner of the screen to prepare to post your Reel. 
On the next screen, you can toggle on or off whether you want to upload the Reel to your Feed, tag other users, and list a location, to name a few options. Once you are happy with the Reel you have recorded and edited, you can save it as a draft or share it on Instagram using the two options at the bottom of the screen.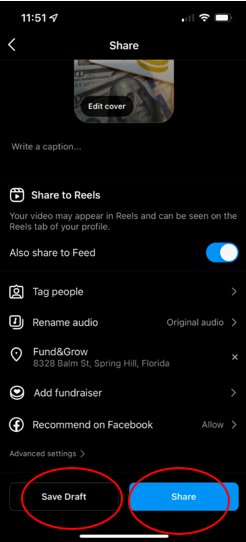 It is really that easy, and you have now successfully created your first Instagram Reel! 
Six creative ways to use Reels for your business 
When you are new to Instagram Reels, it can be challenging to know what content you should share using this feature, so here are six ways you can use Reels to grow your audience on Instagram and your business!
1. Share behind-the-scenes content 
As your business grows, your audience will become familiar with the products or services you offer, but they may be unaware of what goes on behind the scenes to create and deliver them. 
You can introduce your team or show them how you create and package orders. 
Giving your audience an authentic look at your daily operations can be a great way to interact with them and create a long-lasting relationship. 
 2. Tell your brand story 
Every brand has a story, and your audience would likely love to hear yours! 
Connecting with your audience in this way is a great way to do so on a human level and share the passions you have that led you to create your brand. 
If you decide to use this method, keep it casual and authentic to leave a lasting impact on your audience.
3. Give viewers a sneak peek of something new 
Providing viewers with a sneak peek through your Reels is a terrific idea since viewers enjoy exclusivity. 
You can inform them of or hint at a new product or service or new location that is coming soon. 
In addition to making those watching your Reels feel special for being the first to know, this will also help you build hype around an aspect of your business that has not launched yet.
4. Share insider tips and tricks 
Sharing your knowledge is always a great idea. 
Whether you share tips specific to your niche or on how to open a business, this is content your audience will enjoy and appreciate. 
Many users stray away from sharing their tips because they believe it to be common knowledge, but what is straightforward to you could be life-changing to someone else, so share it anyways!
5. Create tutorials centered around your business 
If you sell a product, consider teaching your audience how to assemble or use it. Additionally, if you offer a service of some sort, you can show your audience what comes next. 
For example, Fund&Grow helps business owners of all industries access up to $250,000 of zero-interest introductory business credit. Therefore, we may share a Reel giving our audience a tutorial on using the cards to purchase items they may need for their business, even if you typically cannot use a credit card to pay for them.
6. Question and Answer 
Your audience may likely post questions in the comments of your posts or send them via direct messages. 
If you start to see the same questions being asked repeatedly, you can film a Reel answering these common questions. 
Answering questions with Reels humanizes your Instagram account and business while showing your audience that you are willing to address issues and provide valuable information. 
Because it is a new feature, Instagram Reels allows you to grow your Instagram following. 
Those who watch your Reels may become followers who, over time, may become customers. 
Using Instagram Reels, you can grow your brand exponentially and reach many new customers by exhibiting your brand's values, personality, and products or services. 
Want to read our featured articles?
Use These 6 Strategies to Improve Customer Retention
Everything You Need to Know About Getting on Instagram's Explore Page
7 Types of Logos (And What You Should Choose for Your Business)
Like our content and want even more useful and powerful information to grow your business and advance in life faster?
Consider subscribing to "Prosperity Pulse", our Premium Monthly Newsletter, Prosperity Pulse where you can find the latest strategies, information, and resources on business development, entrepreneurship, marketing, finance, real estate, as well as Personal and Business credit.
It's also where we share exclusive 0% APR Business Credit Card offers that just hit the market and the most impactful industry trends.  You can also expect to hear from our internal industry specialist team at Fund&Grow for instantly applicable tips and tools to help you experience personal growth and business prosperity.
About Prosperity Pulse:
Whether you just launched a start-up or you're already a seasoned entrepreneur, Prosperity Pulse will provide actionable methods to improve your day-to-day business operations and achieve maximum sustainable growth.
In our Newsletter, you'll read content-packed articles on credit & financial education, inspirational content-packed tips, resources from our industry experts, and tons of actionable content to save you precious energy, money, and time along your entrepreneurial journey. 
Prosperity Pulse is the ultimate newsletter that will connect you to the latest business and entrepreneurial trends in the marketplace so you can act on them before the competition. 
Not only will you get a digital copy of the newsletter, but we will mail you a physical print version each month.  Click here to sign-up for Prosperity Pulse.