Fund&Grow's Business Credit Card Stacking Membership
Obtain up to $250,000 of Safe & Easy-To-Use Business Credit
Try RISK-FREE With Our 60-Day Money Back Guarantee
The Done for you Fund&Grow Membership
The Fund&Grow membership is a tested and proven lending program that obtains up to $250,000 of unsecured (safe) business credit cards and shows you how to access these high-limit credit cards as cash lines of credit, eliminating the cash advance fees. Each business card provides an introductory interest rate of 0% for an average of 12 - 18 months. Almost all major banks and many regional banks offer these 0% introductory teaser rate cards. Fund&Grow's membership leverages these offers in an organized way to create easy-to-use funding.

The best part about Unsecured Business Credit is that it's setup without appearing on your personal credit, risking collateral or assets, giving up equity in your deal or business, having to complete complex financials, or paying high interest rates. These attributes make Unsecured Business Credit one of the safest and easiest forms of credit available today.
We created the Fund&Grow Membership to help small business owners, entrepreneurs and real estate investors that are struggling with raising capital. Market research shows that most small business owners are unsure how to secure funding and are constantly damaging their personal credit because of business expenses.
We knew that business owners, real-estate investors and aspiring entrepreneurs were frustrated and confused with all the complicated financing options that traditional banks and money lenders offer. So we created a hassle free, completely done-for-you solution so business owners can finally get the funding they need to scale and grow.
In our done-for-you credit card stacking membership our team will directly work with you to create hundreds of thousands in available funding that can be kept at a 0% interest rate long-term. We handle all the legwork, including providing regular updates and we stay in close contact with you and the banks, so that your not required to do any of the work - except activate and use your funding.
We've helped over 30,000 small business owners, entrepreneurs and real-estate investors secure over $1.6 Billion in business credit lines, averaging over $24 Million a month in client funding.
The Benefits Of Fund&Grow Business Credit
Zero Interest - Enjoy 0% introductory interest rates for an average of 12 - 18 months.
Does Not Appear on Your Personal Credit - The unsecured (safe) business credit that we obtain for you will not show up on your personal credit.
Cash-Like Purchasing Power - You can utilize the funding that you receive for any business need. Whether that be to pay for software, tools, business vendors services, inventory, or even sending a wire to purchase an investment property. (We explain how to send wire transfers from your business card to purchase real estate for as little as a 2.85% wire fee). There are no fees when simply swiping and purchasing using the business cards.
Unsecured Safe Funding - Unsecured means that you are not risking your assets, such as using properties as collateral. Additionally you wont give up equity in your business or ongoing real estate deals in order to access and use unsecured business credit, you maintain 100% control of your business and the credit lines.
Up to $250,000 of Unsecured Funding - Clients can expect up to $100,000 or more of spend-like-cash Unsecured Business Credit in 45 days or less and up to $250,000 over the next 12 months, depending on credit worthiness.
Up to $100,000 of Corporate Credit - Our flagship Do-It-Yourself corporate credit program will get you up to $100,000 or more in unsecured, NON-recourse corporate credit over the next 12 months. This credit is not tied to you personally, no personal credit check required and will not affect your personal credit score. Instead, this credit will boost your Dun & Bradstreet corporate credit rating and eventually will allow you to access hundreds of thousands of dollars of NON-Recourse funding, the ultimate safest form of corporate funding.
Try RISK-FREE With Our 60-Day Money Back Guarantee
When You Join The Program You Get Full & Immediate Access To:

"
12 Months One-on-One Unlimited Coaching and Credit Building (Including A Secondary Applicant). We work with you and coach you directly to build up your credit score so that your eligible for the largest funding approvals. We even offer the coaching to a secondary applicant of your choice.
Up to $250,000 of Growth Capital - Completely Done For You. We will complete multiple applications and carry out negotiations on your behalf to secure you multiple batches of funding. This is completely managed by us and a complete done for you service. You can sit back, relax, and watch the money roll in.


Advanced Credit Consulting to Optimize Your Credit Portfolio. We work with you and coach you directly to maintain and improve your overall credit portfolio so that you can have peace of mind knowing that your credit is being managed properly.
Up to $100,000 of Corporate Credit Accounts. Secure up to $100,000 in 12 months of non-recourse funding, no personal guarantee or credit check required.


How To Creatively Leverage Your Credit In Unique Ways. We explain step-by-step how you can use your Credit to send wire transfers, and utilize it in certain situations where you would typically need cash.
Entity Formation With Tax ID. We manage the entire set up of the perfect entity that has instant seasoning and is in a safe lendable industry, so that you can receive the largest amount of funding in the shortest period of time.


LLC Creation. We will assist you in incorporating your day-to-day LLC and get you set-up for receiving maximum business and corporate credit.
How To Remove Credit Inquiries. Get the step-by-step system on how you can easily and quickly remove credit inquiries from your credit report to get you ready for ongoing business credit approvals.

Special Edition Membership Bonuses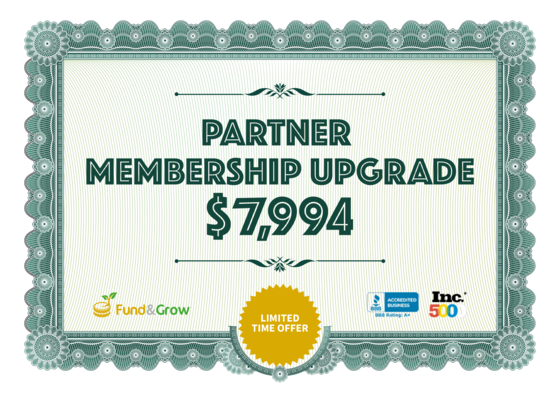 $7994 BONUS: Membership Partner Upgrade We are offering this upgrade for a partner of your choice (spouse, family, friend, business partner or any person of your choice) who will receive all of the great benefits of our program, including formation of a lendable entity, 3-5 batches, up to $250,000 of funding, all applications and negotiations completely done for you, advanced credit consulting, inquiry removal and cash liquidation.
$997 BONUS: Fund&Grow Premium Coaching Get access to our premium monthly newsletter which covers essential topics such as credit markets, real-estate investing, tax strategies, strategies for incorporation and how to maintain high credit and D&B ratings.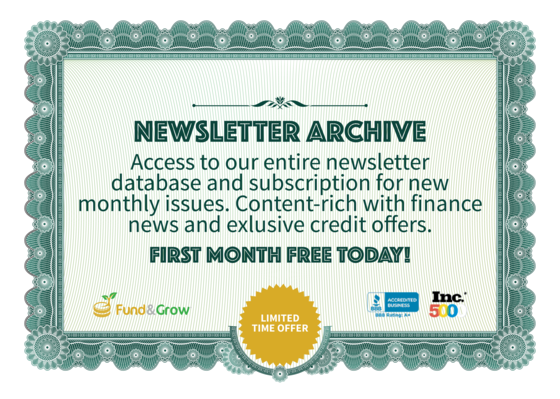 Try RISK-FREE With Our 60-Day Money Back Guarantee
Here's A Summary Of Everything You Get
When You Sign Up Today
Done-For-You Business Credit: Up to $250,000 of 0% Interest Business Credit $3,997 Value
12-Month Access to a Business Credit Expert: You will have access to our team of business credit experts that will provide a detailed individualized plan to maximize your funding. $1,497 Value
Free Business Entity: We'll get your day-to-day business incorporated (Pay State Fees Only) $1,997 Value
Free Guide: How to Creatively Utilize Business Funding in Non-Traditional Ways $497 Value
The Credit Coaching Package: We'll teach you how to remove credit inquiries from your personal credit reports. $497 Value
Get An Extra $100,000 D&B Corporate Credit: We'll teach you the difference between Corporate Credit and Business Credit. (Boost your business credit profile with NON-PG Credit by activating our D.I.Y. Corporate Credit Program). $1,997 Value
BONUS #1: Secondary Applicant Membership Upgrade $7994 Value
BONUS #2: Fund&Grow Premium Coaching & Archive $997 Value
*SPECIAL BONUS: All participants are enrolled in our premium Fund&Grow Premium Coaching, including exclusive business credit offers! The fee for this program is $50 per month. The first month is free. You may cancel at any time.
Total Value: $19,473
Try RISK-FREE With Our 60-Day Money Back Guarantee
I take tremendous pride in building positive and lasting relationships in my businesses and personal life. Every member of my team is committed to helping our clients get the maximum amount of funding possible and achieve their highest growth potential. have a question?
Our business experts are available to answer questions Monday - Friday from 9:30 a.m. - 5:30 p.m. EST
Email Us:
service@fundandgrow.com
Watch our business credit webinar:
Obtain $250,000 Business Credit
Let's Stay Connected on Social Media!