Home
»
Blog
»
tips-that-make-travel-easier
6 Useful Credit Card Tips That Make Travel Easier
June 29, 2018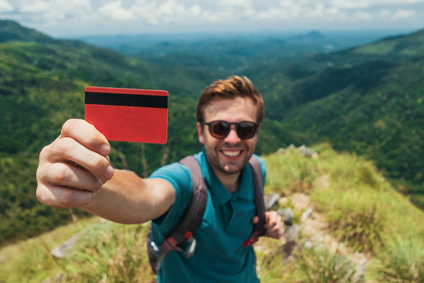 Whenever you go on a vacation, you probably have the mountains, or the sun, the sand and the beach on your mind. In such situations, it's difficult to turn your mind towards balances and credit cards. However, this is something that you just cannot afford to ignore. Given below are a few tips related to credit cards that can help you while traveling.
Let Your Card Issuer Know That You Are Traveling: In an age where cybercrime is rampant, credit card companies need to be very alert to protect the consumer. If you are someone who normally shops in New York, and your card is suddenly swiped in Paris, it may be a cause of concern for your issuer, and your card can be declined or even suspended. That is why it is very important to let your card company know about the dates on which you will be traveling, as well as the places you plan to visit. Note that AMEX no longer takes travel alerts. They use analytics to determine if a charge is valid or not. For example, they saw an Air France charge on my colleague's card and sent him an email saying "We see you're traveling… have a nice trip!" Some issuers allow you to verify charges via text, without having to call.


Find Out About the Travel Benefits Your Card Offers: Many rewards cards offer travel-related perks, such as discounts on rental cars, free or discounted medical insurance, and concierge services. Some even provide points that you can redeem for air travel or hotel stays. Thus, doing some research beforehand and utilizing these benefits can help you significantly cut down on your vacation expenses.


Check Account Balances and Make Payments on Time: It's easy to forget about these responsibilities when you are traveling; however, such negligence can cost you dearly in terms of steep interest charges and late fees. Download a mobile app that will help you check balances on the go. This can also act as a reminder to not get carried away and overspend while on vacation. Set reminders that will help you make your credit card payments on time. In fact, you can even change the payment date of all your cards to the same day to make your job easier.


Reduce Foreign Transaction Fees: While in another foreign location, you might end up using ATM debit cards that are not in your network. This facility usually comes with hefty charges. There is a way to get around this issue. Many institutions, like credit unions and smaller community banks, now rebate these fees. That said, currency conversion fees are still assessed, and some issuers charge less than others. So, it's a good idea to see who has the best arrangements before you go traveling. Also, find out if you have a daily spending limit or daily withdrawal limit so that you don't have to face any last-minute inconveniences. Finally, while on an overseas trip, do your research about conversion fees. These can be as high as 3% of the transaction amount; but, there are some U.S. issuers who no longer levy these charges.


Stay Alert: You can be a victim of fraud in a foreign location as well as in your home town, so whenever you swipe your card, stay alert for skimming devices. Instead of an ATM or debit card, consider using a credit card or travel card while paying for purchases. As they don't pull money directly from your checking account, you are more protected. Finally, don't place all your cards and card replacement information in the same place when you travel; because, if your wallet gets stolen, you may end up in the soup.


Do Your Research: Informing your issuer about your travel plans is not enough; you must do additional research to find out if your card will be accepted in the place that you are traveling to. For example, if you are still using a magnetic stripe card, you may face difficulties in countries that are mainly chip-and-PIN territory. The best people to ask for advice are your travel agent, your hotel, inn-keeper, or concierge. Also, make sure that you when you travel, you carry more than one card and from different issuers – not all cards are universally accepted; moreover, if you lose one, it is important to have a backup.


Use Your Smartphone: Many travelers tend to rely on public desktops or WiFi for accessing their accounts. This is a bad idea as your information can be easily stolen by hackers. Always use your smartphone for such activities. And remember to keep it locked so that no harm comes to you if it is lost or misplaced.
$50,000 - $250,000 at 0% Interest:
At Fund&Grow, we help clients with good credit obtain as much as $250,000 of unsecured credit at 0% interest. This amount is available for a period of 6, 12 or 18 months and can be used for anything from financing a small business to providing a down payment on a property. We do charge a fee for our services, but in return, we guide you every step of the way. So, what are you waiting for? If you need such funds, call us at (800) 996-0270 and we will help you out immediately!