Consumers are more excited as cultural and popular events like Christmas, Halloween, or Black Friday come around. Many businesses implement seasonal marketing campaigns to capitalize on this excitement.
A seasonal marketing campaign is a limited-time promotion created around the season's theme. Such campaigns aim to advertise products and services related to people's needs and activities during that time. For example, at Christmas time, many stores offer special discounts on gift items or create special guides for customers to choose presents for their friends and family.
Seasonal marketing campaigns are most effective for businesses that sell seasonal items, such as beach wear or Christmas decorations. However, when executed correctly, these promotions can significantly benefit any business.
You get the most out of your seasonal marketing campaigns by implementing creative and unique promotional strategies. To give you an idea of what you can do, we've listed some suggestions below: 
Create a seasonal email list:
You can tag and segment new sign-ups based on seasonal interest right before a holiday. In fact, at this time, any opt-in incentive you provide should be linked to the holiday as well.
In the example shown below, Miinto encourages visitors to sign up for their newsletter to get early access to Black Friday deals.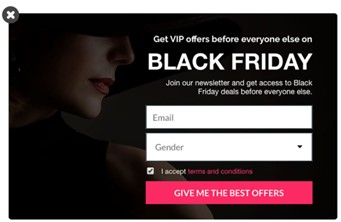 Source: Miinto
Through a seasonal email list, you can quickly inform subscribers when the sale is about to start, so they don't miss it. You can also provide attractive offers such as sneak previews, early-bird discounts, exclusive access to deals, and so on. All this will help to improve website traffic during those times and improve conversions.
Offer seasonal discounts and deals:
This is one of the oldest yet most effective strategies.
You can include all your products in the sale or offer discounts on products related only to the ongoing season. For example, an eCommerce store may offer seasonal discounts just on their stationery products if school is about to start.
In the example shown below, Bonobos offers a time-limited, high-value discount to shoppers to tempt them to act quickly. In fact, the deal provided is so good that it may entice customers to buy more than what they had initially planned.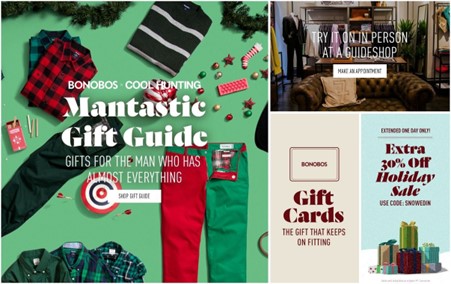 Source: Bonobos
If the holiday season is longer, you create daily or weekly offers to encourage continuous engagement.

Source: CC Hobby
As shown above, CC Hobby offers daily prizes to website visitors to ensure they keep coming back during the Christmas season.
Create seasonal product categories:
During a specific season, gather all relevant products on one page and showcase them to visitors to help them find what they are looking for.
The idea is to limit the number of choices so that customers can decide easily and quickly to complete their purchase.
California Englished has a section on its website to showcase seasonal products that also make great holiday gifts. The additional advantage of this strategy is that it helps create a fantastic holiday shopping vibe.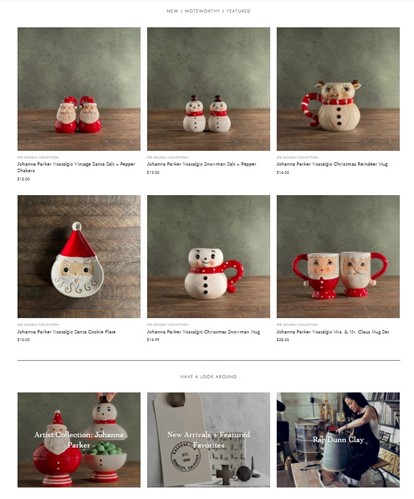 Source: California Englished
Offer gift wrapping at check out:
Many seasons are about gifting, so offering gift wrapping at check-out can help shoppers save time and make them feel special. A good idea is to add your company name or logo on the wrapping paper – this is an easy way to simultaneously create brand awareness and make customers happy.
Customize social media campaigns and optimize landing page:
You should share holiday-related content on your social media pages since that's one of the best ways to connect with your target audience and increase brand visibility.
As shown below, Starbucks changes its cup design and shares coffee promotions, customer images, and festive photos on its Instagram page during the Christmas season.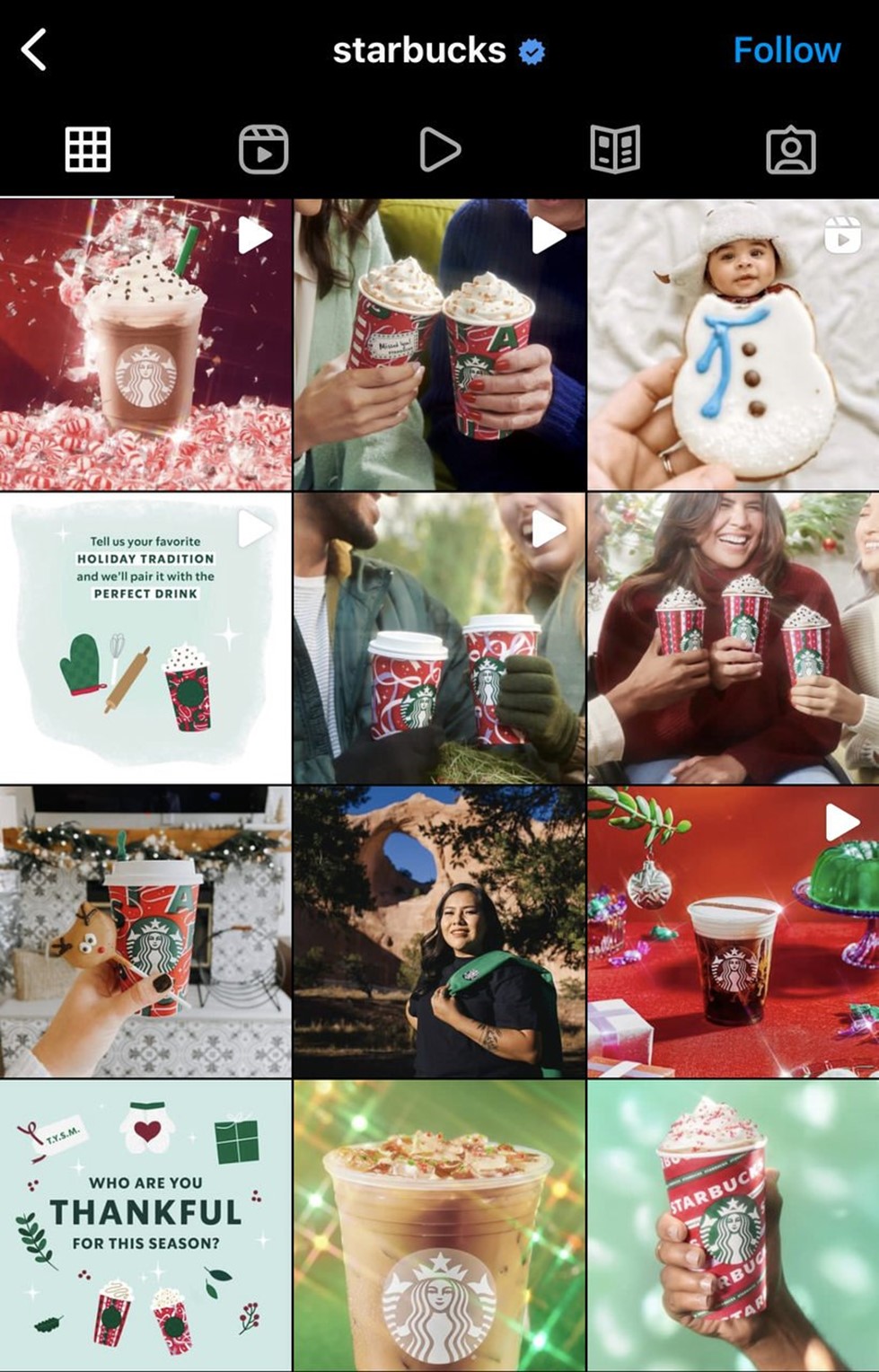 Source: Starbucks
You can also optimize your landing page by adding festive words, decorative buttons, banners, and pop-ups during certain seasons. All this helps attract visitors' attention and uplifts their mood.
Additional Tips:
It's not enough to simply implement the above ideas; for best results, you must also:
Plan early:
You can't leave it all to the last moment. You'll need to figure out the content you'll share, plan your budget, and decide how you'll organize and execute the entire event. Thus, you must plan each seasonal campaign at least 2-3 months in advance.
Research your audience and competitors:
To create effective campaigns, you must first understand who you're selling to. Therefore, you must take time to understand your target audience's demographics – their needs, interests, preferences, problems, and challenges, and then create a campaign keeping these in mind.
You should also find out what your competitors do during this season since you can improve your campaigns by analyzing theirs and evaluating the results.
Analyze your campaign:
An analysis is important to understand what worked and what did not. Measure and analyze all Key Performance Indicators before and after a seasonal marketing campaign. Also, approach your customers for feedback to find out what they liked and what parts they would like you to improve.
A seasonal marketing campaign aims to increase customer engagement and improve your sales. Try out some of the strategies described above – you will be pleasantly surprised by your results.
Want to read our featured articles?
All You Need to Know About Getting a BBB Accreditation for Your Business
How to Create an Instagram Bio that Will Stand Out
Useful Tips for Writing Impactful Job Postings to Attract the Best Candidates
Like our content and want even more useful and powerful information to grow your business and advance in life faster?
Consider subscribing to Fund&Grow Premium Coaching where you can find the latest strategies, information, and resources on business development, entrepreneurship, marketing, finance, real estate, as well as Personal and Business credit.
It's also where we share exclusive 0% APR Business Credit Card offers that just hit the market and the most impactful industry trends.  You can also expect to hear from our internal industry specialist team at Fund&Grow for instantly applicable tips and tools to help you experience personal growth and business prosperity.
About Fund&Grow Premium Coaching:
Whether you just launched a start-up or you're already a seasoned entrepreneur, Fund&Grow Premium Coaching will provide actionable methods to improve your day-to-day business operations and achieve maximum sustainable growth.
In our Premium Coaching, you'll read content-packed articles on credit & financial education, inspirational content-packed tips, resources from our industry experts, and tons of actionable content to save you precious energy, money, and time along your entrepreneurial journey. 
Prosperity Pulse is the ultimate Premium Coaching that will connect you to the latest business and entrepreneurial trends in the marketplace so you can act on them before the competition. 
Not only will you get a digital copy of the Premium Coaching, but we will mail you a physical print version each month.  Click here to sign-up for Fund&Grow Premium Coaching.