Home
»
Blog
»
overpaying-credit-card-bill
What You Should Do if You Overpay Your Credit Card Bill
May 2, 2017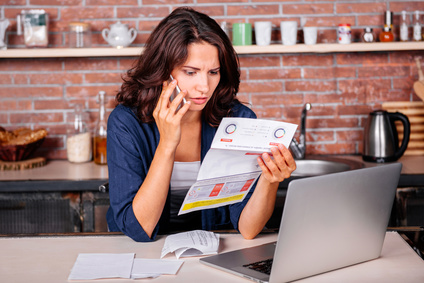 Have you ever wondered what would happen if you overpaid your credit card bill? It's not an inconceivable situation – there have been instances when credit card holders paid their bills twice by mistake. Perhaps you added an extra digit while writing out a check or typed it in incorrectly as you were paying online. Whatever the case, if you overpaid your bill, per federal law you are entitled to get that money back. However, be aware that this process may not be easy or automatic.
As per regulation Z of The Truth in Lending Act, anytime you overpay your bill by $1 or more, you create a credit balance. The institution is not only required to credit the amount to your account, but also refund it within seven days of receiving a written request. In case the credit remains for more than six months, the organization is legally bound to make a good faith attempt to refund the amount of credit to your bank account.
You can get the refund by cash, check, or money order, or have it transferred to a bank account. Some issuers may even agree to refund the amount if you instruct them to do so over the phone. Alternatively, you could keep the funds on the credit card, and use it to make purchases and bill payments until it's all paid down.
In some cases, you can avoid the situation completely by simply canceling the transaction. However, this is possible only if the transaction has not yet been cleared by the bank (normally this process takes up to three days for an electronic transaction). During this time, you can cancel the transaction online by signing into your account and choosing the "cancel transaction" button on the payment history page. If the button is not there, call the bank and ask the customer representative if she will do it for you.
In most situations, an overpayment would be due to some kind of error; nevertheless, there have been cases where consumers have overpaid in an attempt to boost their credit line. Let's say a cardholder has a credit limit of $2,000. He may be tempted to think that if he pays $4,000, he will be able to make charges worth $4,000. Unfortunately, this is not the case. Most issuers spell this out in very clear terms in the cardholder agreement, including the fact that the consumer is not entitled to any interest on the credit balance. Moreover, depending on the terms and conditions, an issuer can even reject any transaction that results in a credit balance.
There's a good reason why card companies are wary of card overpayments – there have been instances when crooks have used this process to pull off scams. For example, a criminal may overpay using a bogus check and then ask for a refund before it is found to be worthless. This is why you may at times find that a massive overpayment from your end has triggered a fraud alert.
The best thing to do is to avoid overpayments altogether by using financial software such as Quicken or free online tools like Mint. The software enters the bill as paid and warns you if you try to pay it twice. If you pay bills by check, record it in your check register – this will assist you in keeping track of payments. If you feel you've paid your bill by phone or online, avoid double-paying by checking your credit card balance or the payment history page.
Nevertheless, if you've genuinely made a mistake, you are certainly entitled to a refund. And in case the issuer refuses to do so, you may contact the Consumer Financial Protection Bureau to lodge a complaint.
$50,000 - $250,000 Unsecured Credit at 0% Interest:
At Fund&Grow, we help clients with good credit obtain as much as $250,000 or more at 0% interest through creative credit card financing. For a flat fee, we take care of most of the processes and paperwork ourselves, so that you're left to concentrate on other tasks at hand. To learn more about how we can help you get the financing you need, call us at (800) 996-0270.