After reaching a five month high in February, U.S. housing starts pulled back by much more than expected in March. This decline, along with a fall in building permits, seems to indicate a cooling in the U.S. housing market.
Last month, ground-breaking fell by 8.8% to an annual rate of 1.089 mn. Economists had expected housing starts to dip by 0.9% to 1.167 mn. February's figures were revised up to 1.194 mn from a previously reported 1.178 mn-unit rate.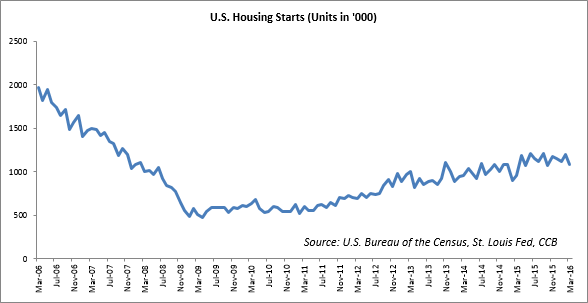 Single-family housing starts – the largest segment of the market – plummeted 9.2% to 764,000, while multi-family starts declined by 7.9% to a 325,000-unit pace. Starts for buildings with five units and more plunged to their lowest level in a year.
"Single-family starts are off from their strong showing in February but this slowdown represents a return to a long-run, gradual growth trend that is consistent with builder confidence levels, which are overall positive," said NAHB Chief Economist Robert Dietz. "While we are also seeing a monthly decline on the multifamily front; multifamily construction is expected to level off at a solid rate given the high level of rental housing demand."
The drop in housing starts is in line with other data, such as business spending, trade and retail sales, which also signal a slowdown in economic growth in the first quarter. In March, building permits, a measure of future housing demand, declined by 7.7% to a 1.086 mn units rate. Economists had expected building permits to climb 2.8% to 1.200 mn from the 1.167 mn rate originally reported for the previous month.
The unexpected decrease was mainly due to a steep fall in multi-family permits, which plunged 18.6% to 359,000. On the other hand, single-family permits dropped 1.2% to a rate of 727,000 after reaching an eight-year high in February.
Despite the monthly decrease, housing starts were up by 14.2% in March, compared to the same month a year ago. Building permits also showed a 4.6% jump year-over-year.
According to experts, housing fundamentals remain strong, primarily due to a strong labor market, which is increasing employment opportunities for young adults. In March, sales of existing homes increased 5.1% to a seasonally adjusted annual rate of 5.33 mn, beating economists' expectations of a 3.5% rise to a 5.30 mn-unit pace. February's sales were revised slightly downwards to 5.07 mn units from the previously reported 5.08 mn units.
Existing home sales jumped in all four regions in March, increasing 11.1% in the Northeast and by 9.8% in the Midwest. However, a lack of homes available for sale is currently limiting choices for buyers in the housing market.
While the number of unsold homes on the market in March rose 5.9% from February to 1.98 mn units, compared to a year ago, supply was down by 1.5%. At March's sales pace, it would require 4.5 months to clear the inventory of houses on the market, up from 4.4 months in February. Generally, a six-month supply is considered to be a healthy balance between supply and demand.
In March, first-time buyers accounted for 30% of purchases, unchanged from both February and a year ago. Meanwhile, the median house price increased 5.7% from a year ago to $222,700 last month. Given that the rise in house prices is outstripping wage gains, home purchasing could become more expensive for first-time buyers. However, this would also increase equity for homeowners, which in turn could encourage them to put their homes on the market.