Home
»
Blog
»
low-salaries-fast-food-workers-cost-us-long-run
Low salaries of fast food workers cost us all in the long run
October 30, 2013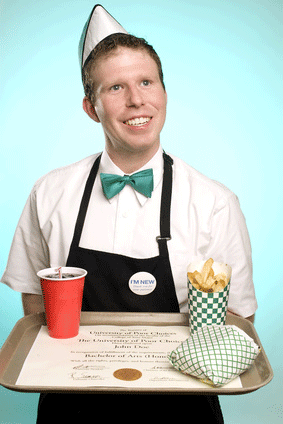 There are many people who would love to have a job... any job. But even if you have one, there's no guarantee that you'll be able to make it without some help.
Fast food workers are the perfect example. A recent study by the University of California Berkeley Labor Center and the University of Illinois at Urbana-Champaign, indicated that more than half (52%) of the families of fast food workers are the recipients of some kind of public assistance program. This could include, but is not limited to, programs such as food stamps, Medicaid, Temporary Assistance for Needy Families or even the Earned Income Tax Credit.
Each year, taxpayers spend an estimated $7 billion on these programs.
The median pay for core front-line fast food jobs is $8.69 per hour (source). With the combination of insufficient hours and low salaries, many people simply aren't able to make ends meet. It's no surprise that many organized rallies are popping up across the country with fast food workers demanding a minimum of $15 per hour.
Besides the low salaries, fast food workers are usually not offered benefits. The data shows that while 59% of the American workforce obtains healthcare benefits from their employers, just 13% of fast food workers can make the same claim.
In a related development, the National Employment Law Project bashed fast food conglomerates for the treatment of their employees. They claim that while these companies are getting rich, their employees become the taxpayer responsibility due to low salaries and nonexistent benefits. In fact, the 10 biggest fast food restaurants were responsible for more than 50% of the total cost to taxpayers – to the tune of $3.8 billion.
What's worse, fast food workers are not just teenagers anymore. Two-thirds are age 20 and older, and 68% are the main breadwinners in their families. In addition, one in every five families with a family member holding down a fast food job is below the poverty line.