Social media has created an easily accessible platform for small businesses, giving them unlimited potential to build brand awareness, foster relationships, and boost sales. TikTok, specifically, has helped small businesses become more discoverable and share their products entertainingly, resulting in significant, measurable success. In fact, 55% of users who saw a brand on TikTok purchased something from that business, further proving the potential for business owners on the platform.
Generally, small businesses post content on the platform and cross their fingers that the algorithm picks it up and the video goes viral. However, TikTok also offers companies exposure through influencer marketing with paid sponsorships and influencer gifting.
While many businesses may opt to pay an influencer for a 60-second video, others have found success in influencer gifting to micro and macro influencers. In this article, we will delve into influencer gifting to better understand how it works, why it works, and if it is an investment worthy of your time to answer the question buzzing around in every entrepreneur's mind in 2023: is it worthwhile to send free products to TikTok influencers?
What is influencer gifting? 
Influencer gifting is when a brand sends products to content creators hoping to receive a promotional post in return. Now, in some instances, the creators will decide not to make a post about your product, but that is just part of the investment.
Gifting campaigns typically do not have the same contracts or commitments as paid sponsorship, so the creator does not have to make a post if they choose not to. While that may seem risky, it often ends up being worth the risk when a creator decides to post about your product.
Why influencer gifting works 
Content creators are obligated to make viewers aware when a post is sponsored by a company, meaning the company paid them to make the promotional post. Many viewers may watch the promotional post, but knowing the company sponsors it, they may decide the creator is being paid to say nice things about the brand even if they feel differently about the product. While this strategy can still lead to more exposure or sales for your business, this fact is worth noting when deciding which route you will take with influencer marketing.
With influencer gifting, you have an extra layer of authenticity and transparency. The creator's audience is more likely to believe the creator is talking about the product because they honestly enjoyed it instead of being paid to say something nice about it. Viewers follow content creators they enjoy, trust, and relate to, so if they see someone they trust raving about how great a brand or product is, they are more likely to seek additional information or purchase from that brand. In many cases, this strategy can be just as effective as a word-of-mouth referral from a friend or family member.
A marketing and advertising consultant, August Noble took to Twitter in 2020 to share a case study about one of his clients who utilized influencer gifting. He talks about how the client sent 100 units of their product to TikTok influencers and the effect after one creator picked up the product, enjoyed it, and made a video that went viral: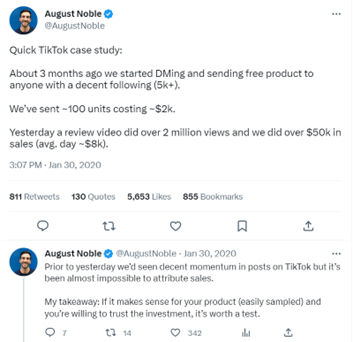 Source: Twitter / @AugustNoble
A $2,000 investment led to a $50,000 sales day, over 5X the company's typical day. With that one viral video, Noble's client more than made up for the creators who decided not to make a video about the product and put their brand in front of more than 2 million potential customers. This case study is a stellar example of how effective influencer gifting can be for small businesses.
Influencer gifting: Micro-influencers or Macro-influencers? 
If you decide to invest in influencer gifting, you must determine whether you will send your products to micro-influencers or macro-influencers. Micro-influencers are typically those who have between 10,000 and 100,000 followers. Once content creators gain more than 100,000 followers, they are considered macro-influencers.
Most people would think going after macro-influencers is the way to go since you would put your brand and product in front of more people, but that is not the case. For businesses hoping to get a video made about one of their products, sending them to micro-influencers has proven to be the most effective option. This is because micro-influencers tend to have a more cohesive community of engaged followers. In fact, a study by Upfluence found that micro-influencers have a significantly higher engagement rate on TikTok than macro-influencers. The study found that micro-influencers had engagement rates of 17.96% while macro-influencers had a 4.96% engagement rate.
Furthermore, because most entrepreneurs believe creators with more followers would result in higher returns, micro-influencers are not bombarded with the same number of free products or sponsorships as macro-influencers, increasing the chance they open, use, love, and promote your product on their platform.
Three tips to succeed at influencer gifting
Now that you know just how much your business could benefit from gifting products to TikTok influencers, let's look at some ways to ensure that you get the most benefits out of an influencer gifting campaign if you decide to make that investment.
What are your goals?             
First and foremost, you must define what you hope to achieve by sending free products to these content creators. Without a goal in mind, you will find it challenging to measure the campaign's success, so consider if you aim to tease a product launch, build brand awareness, collect UGC (user-generated content) for future campaigns, or increase your social media sales numbers.
Depending on what your goal is, your approach to influencer gifting may vary. For instance, if your goal is to tease a product launch, you would have to initiate the campaign with enough time for the influencer to receive, try, and possibly create and post a video about it. On the other hand, if your goal is to increase brand awareness, you may want to send out your best-selling items in batches to different influencers to see who will pick it up and talk about it on their platform.
Carefully select the products you send
With TikTok, most content creators have a specific niche they fit into and the audience they speak to. As a result, you must carefully select the products you send them. If you send them a product that does not fit into their niche or appeal to their audience, there is a very slim chance they will ever talk about it since they would risk upsetting or confusing their audience.
Therefore, take the time to search for influencers who fit into a similar niche as your product. For example, sending a technology product to an influencer known for reviewing new tech products or talking about the tech industry would be ideal compared to sending it to a beauty influencer.
Also, consider that the content creator's audience is interested in what that person typically talks about. So, if a beauty influencer's platform is all about beauty products and suddenly a tech gadget appears, their audience is not interested in that product, leading to a wasted opportunity for your business.
Carefully picking which influencers you gift your products to could be the difference between a successful and failed campaign, so spend ample time researching which creators make the most sense for your products.
Ensure your gifted product is unique
When it comes to TikTok influencers, they are known for talking about products that stand out from the rest in some way. Most of them have seen everything their industry has to offer, so sending them something that provides a unique twist on a product they may have used before could increase the chances of them becoming curious about it, using it, and then creating a video about it.
If you send them a product that is identical to those they have tried in the past, they will not be as intrigued by it and may throw it to the side, which is not what you want out of influencer gifting. Moreover, they may assume your brand does not introduce anything new into the market and avoid opening any other packages from you in the future.
Ultimately, the decision to incorporate influencer gifting into your eCommerce business strategy is personal. You must weigh the potential benefits against the cost of the gifts and decide if it is something you want to move forward with.
As with any marketing strategy, it's best to start small and test how effective this practice can be for your business before ramping up investing too heavily. When done correctly, influencer gifting can help expose your eCommerce business to a larger audience - boosting sales, awareness, and brand loyalty.