Google is the largest search engine accumulating 4.8 billion daily interactions, making it the perfect place to spend money on ads and land them in front of your target audience.
However, the opportunity to place your business in front of such a large audience can also be overwhelming.
After using Google Ads to promote Fund&Grow for many years, we have learned a thing or two about the platform which we have gathered into a single guide to help you promote your business and avoid common mistakes.
What is Google Ads?
Google Ads is a paid online advertising platform created by Google, which before the rebrand in 2018 used to be called Google AdWords.
Since Google has been around for decades, it has seniority and authority in the paid advertising space.
It is the world's largest and most popular advertising platform, used by millions of businesses to generate qualified leads and reach their target audience.
According to Google, advertisers make $8 for every $1 spent on Google Ads, providing a significant return.
How does Google Ads work?
Google Ads operates under a pay-per-click (PPC) model, which means businesses target keywords on Google and compete with other marketers for them through bidding on them like an auction.
The bids you place tell Google the maximum amount you are willing to pay for an ad. For instance, if your maximum bid is $5 and Google determines your cost per click is $3, you would get that ad placement. On the other hand, if they deem your cost per click is more than $5, you will not get that ad placement.
Within Google Ads, you can also set a daily spending limit, so you will never spend more than that amount for an ad per day.
Marketers can choose from three options for their bids:
Cost-per-click (CPC): how much you pay per user who clicks on your ad.
Cost-per-mile (CPM): how much you pay per 1,000 impressions.
Cost-per-engagement: how much you pay when a user completes a specific action on your ad, such as signing up for an email list.
Google will take your bid and pair it with a quality score assessment, which determines the quality of your ad, keywords, and landing page on a scale of one to ten. If your ads are higher quality, your ads could cost less and appear in better ad positions.
Your quality score and bid together create your AdRank, which tells you the position of your ad on the search results page. Then, when a user sees your ad and clicks on it, you would pay a small fee for that click.
Typically, CPCs in the United States range from $1 to $2, but the price you pay for your Google ad depends on factors like the quality of your website or how much you bid.
A key advantage of Google Ads for small businesses is that they work on an auction system instead of focusing on the highest budget. Google considers AdRank when deciding where to place your ad among your competitors. They favor a high-quality score over a higher bid because Google ultimately aims to give their users the best search results.
Types of Google Ads
Google Ads offers different campaigns you can use to promote your business.
These campaign options include:
Search campaign
Ads for a search campaign appear above other search results for the keyword and with a small, clearly visible "Ad" in the corner.

This is an excellent placement choice since most users click on search results near the top of the page.
Shopping campaign
A shopping campaign enables businesses to visually promote their products by creating ads that appear as images on the search results page.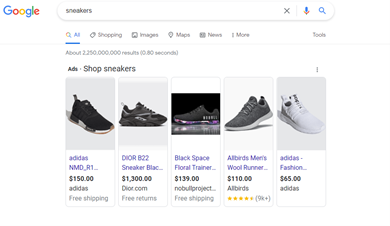 The shopping campaign could help your business generate qualified and interested leads by showcasing your product first on the search results page.
Display campaign
A display campaign leverages Google's partnerships to showcase your ad across different websites.
Your ad could appear on a third-party website, a short video before a YouTube video, on Gmail, or on third-party apps within Google's app network. The image below shows Office Depot's ad on Forbes.

The reach your ad could achieve with a display campaign is endless, but the downside is that your ad could appear where you do not want them to or in front of people who are not interested in your brand, products, or services.
Google Ads Best Practices
When you begin getting comfortable with Google Ads, you may have multiple campaigns running simultaneously, and it can be a lot to manage.
These tips will help ensure each campaign you run is a success.
Utilize a PPC planning template – a planning template can help you keep your PPC projects organized and make it easy to view how your ads look online, see character accounts, and manage all campaigns in one place.
Avoid broad keywords – if your keywords are too general, Google could place your ad in front of the wrong audience, which results in fewer clicks and higher ad spending for you. It's best to review what's working and make tweaks to improve your keywords and better match your ads to your target audience.
Avoid running irrelevant ads – Your ad must match the search query, or you will not yield the desired results. Your headline and ad copy must match the keyword you bid for and be the solution to solve the searcher's pain point.
Boost your Quality Score (QS) – Your QS helps Google determine where they should place your ad, so the higher the score, the higher in the search results your ad appears. If you have a low QS, fewer people will see your ad, which reduces conversions.
Optimize your landing page - The user experience continues after the ad, so make sure the landing page solves the user's problems, answers their questions, and gives them an effortless experience that will increase interest in your service or product.
Google Ads has significant reach and authority, making it essential to any paid ads or marketing strategy.
As a new user of Google Ads, you have a low chance of making a complete mistake. Instead, there is only room for improvement.
With this guide, you can start or improve your Google Ads campaign to increase leads, conversions, and revenues.
Want to read our featured articles?
Use These 6 Strategies to Improve Customer Retention
Everything You Need to Know About Getting on Instagram's Explore Page
7 Types of Logos (And What You Should Choose for Your Business)
Like our content and want even more useful and powerful information to grow your business and advance in life faster?
Consider subscribing to "Prosperity Pulse", our Premium Monthly Newsletter, Prosperity Pulse where you can find the latest strategies, information, and resources on business development, entrepreneurship, marketing, finance, real estate, as well as Personal and Business credit.
It's also where we share exclusive 0% APR Business Credit Card offers that just hit the market and the most impactful industry trends.  You can also expect to hear from our internal industry specialist team at Fund&Grow for instantly applicable tips and tools to help you experience personal growth and business prosperity.
About Prosperity Pulse:
Whether you just launched a start-up or you're already a seasoned entrepreneur, Prosperity Pulse will provide actionable methods to improve your day-to-day business operations and achieve maximum sustainable growth.
In our Newsletter, you'll read content-packed articles on credit & financial education, inspirational content-packed tips, resources from our industry experts, and tons of actionable content to save you precious energy, money, and time along your entrepreneurial journey. 
Prosperity Pulse is the ultimate newsletter that will connect you to the latest business and entrepreneurial trends in the marketplace so you can act on them before the competition. 
Not only will you get a digital copy of the newsletter, but we will mail you a physical print version each month.  Click here to sign-up for Prosperity Pulse.