Home
»
Blog
»
dont-get-duped-by-phone-scams
Do Not Get Duped by these Credit Card Phone Scams!
October 31, 2017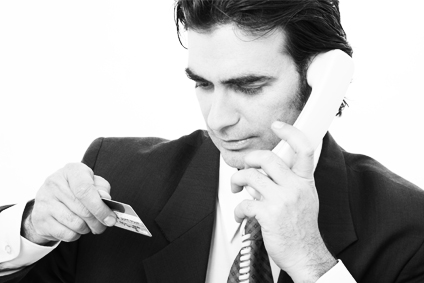 Almost on a daily basis, we hear about instances where hackers have used the Internet to steal credit card information, not only from individuals but also from large, well-established companies. After getting this data, crooks use it to siphon money from consumer and corporate accounts. Given the prevalence of online fraud, we often tend to neglect or underestimate the possibility that a criminal will employ old-fashioned tools, such as phone calls, to con us. However, thieves still use this method to gain valuable information from credit card holders and then misuse it for their own benefit. Given below are three common phone scams, and what you can do to safeguard yourself from them.
Credit Card Fraud Department Scam
In this case, thieves call you and tell you they are calling from your card issuer's fraud department. They pretend that they've frozen your card due to fraudulent charges, and in order to unfreeze your account or remove the fraudulent charges, you need to provide them with certain details. In this way, they ask you for sensitive information like the address that your bills are mailed to, your PIN, date of birth, social security number, credit card number, expiration date, and even the three-digit security code on your card. Once they have this data, they can charge your card with whatever purchases they choose. To avoid being scammed this way, never provide your information to someone who has called you. If you receive such a call, always disconnect and call back on the number provided on the back of your card. In most cases, you will find that the phone call was an effort to dupe you.
Rate Reduction Scam
Beware of prerecorded phone calls from companies that offer to help you negotiate lower interest rates with your credit card issuers. If they are calling you, chances are it's a scam. These robocalls may sound something like, "Hello! This is Rachel. I'm calling with a one-time offer to help you reduce your interest rates on your credit cards. Press 1 to be connected with a representative." If you press 1, you'll be directed to a call center, typically foreign. Then they'll either try to obtain your confidential information or pressure you into buying a service that may not even exist.
Activation Scam
To activate a new card that's been mailed to them, credit card issuers often ask customers to call a certain number provided with the card. However, there's an additional condition – cardholders must call from their home number to prove that the activation is legitimate.
Criminals have found a way to exploit this system. They steal the card and then use technology to make the activation phone call. Certain software programs are available that allow thieves to spoof the issuer into thinking that the call was made from the cardholders registered home number. Thus all a crook needs to do is find out your home number (which is not difficult to do in the first place), make the phone call, and then use the card to make charges on your account.
To avoid being scammed this way, make sure you track your mail on a regular basis. If you are expecting a new card but don't receive it, immediately call the card company to ask why. If you're planning to travel around the time a card is on its way to you, request that the card be delivered to a secure location, or have a trusted friend collect it for you.
The following information from the Federal Trade Commission provides some excellent guidelines.
Never provide your credit card information to a caller. Once a scammer has your data, they can charge your credit card for their own purchases or sell the information to other scammers.
Never share personal financial or sensitive information - like your bank account or Social Security number. Scam artists often ask for this information during an unsolicited sales pitch, and then use it to commit fraud against you.
Be skeptical of any unsolicited sales calls that are prerecorded.
To report violations of the National Do Not Call Registry or to register your phone number, visit donotcall.gov or call 1-888-382-1222. If you think you've experienced a credit card scam, file a complaint with the Federal Trade Commission at ftccomplaintassistant.gov or call 1-877-382-4357.
$50,000 - $250,000 at 0% Interest
Through creative credit card financing, our team at Fund&Grow offers individual with reasonably good credit the opportunity to obtain $50,000 - $250,000 at 0% interest. Available for a period of 6, 12 or 18 months, this credit is unsecured and can be used for anything, from financing a small business to funding the down payment on a property. We charge a fee for our services, and, in return, we walk you through the entire process and take care of most of the paperwork. So, if you (or someone you know) need finding in this range, call us immediately at (800) 996-0270.