Creating appealing visual content should be at the center of your social media strategy.
Across all platforms, using images boosts viewership and engagement, but how do you create social media graphics that your audience will love?
This article explores ten hacks your team can use to create stellar social media graphics, even without a professional graphic designer.
Hone in on one goal per graphic
When creating a graphic, you do not want your main message to get overcrowded, so choose one purpose per graphic and ensure you adequately communicate it to your audience.
It is more likely your audience will take the desired action if they clearly understand what you are encouraging them to do.
Every time you sit down to create a graphic, consider writing down your goal to keep it fresh in your mind so that you can avoid including features that do not help you achieve that goal.
Utilize available templates
Social media templates can be an asset when wanting to create high-quality graphics without much graphic design experience.
A template can save you ample time and help you remain consistent throughout all your brand's graphics. The best templates are customizable, allowing you to implement your brand's fonts, colors, logo, etc.
To save you more time, you can create your graphics in batches and use a social media scheduling tool to automate your posting schedule to ensure you never forget to share with your audience.
Consistency is key
Every graphic you create should remain consistent with your branding, whether selecting colors, fonts, or images.
Consistency will be essential to remaining professional, memorable, and recognizable.
Take Hubspot's Instagram, for example. Whether it is a graph, quote, or image, they keep their brand colors consistent throughout each post.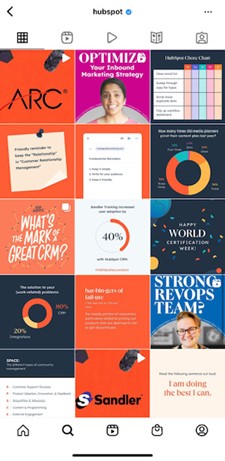 Source: Hubspot
By maintaining consistency in each post, you make it easy for a user to recognize your brand regardless of which platform they choose to interact with you.
Include a variety of graphics
Like Hubspot, consider using different graphics to give your audience a good mix of content.
You can utilize static images, graphs, quotes, and even Instagram Reels to avoid having your social media feed be too similar.
Also, this will help keep your audience engaged with your content by giving them something new every time you post.
Choose your fonts wisely
In addition to keeping your font consistent with your brand, you want to make sure the text is legible.
Your message will not resonate with your audience if they cannot decipher what your graphic says. Instead, they will keep scrolling.
To avoid this disaster, choose simple fonts that complement one another and your brand. You can also change the sizes and styles of the font(s) you select to add dimension and emphasis to important aspects of your graphic.
Leverage a visual hierarchy
When designing a social media graphic, you must create a visual hierarchy.
A graphic's visual hierarchy refers to how you arrange different design elements to draw a user's attention to the focal point of the graphic first before they explore the rest of it.
Creating a visual hierarchy does not have to be complex. You can accomplish this by using contrasting colors, varying sizes, or changing the font of the most important word of a phrase.
By giving the viewer a focal point, you ensure they quickly see your message and avoid them getting lost in everything going on around the focal point.
Prioritize balance
Balance in a social media graphic ensures it is clean and easy on the viewer's eye, which will make them want to continue looking at it.
Your graphic can either have symmetrical or asymmetrical balance. Symmetrical balance refers to having the same design features on both sides of the focal point in an image. The below image from Nike's Instagram shows the focal point (the employees) surrounded on both sides by the aisle of nearly identical shoeboxes.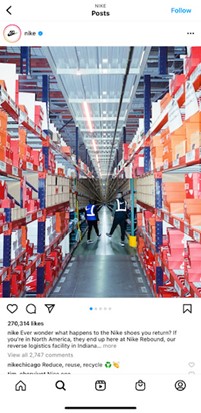 Source: Nike
Alternatively, asymmetrical balance is when the design elements are not identical on both sides but arranged in a way that maintains balance in the entire graphic.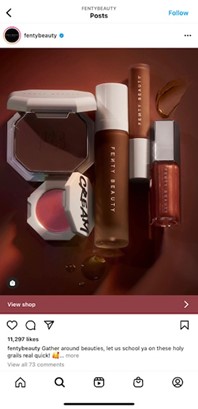 Source: FentyBeauty
 Fenty Beauty's Instagram beautifully demonstrates asymmetrical balance by displaying its products in a way that draws your eye to the product in the middle while maintaining balance by surrounding it with products on either side. The surrounding products are not identical shapes or sizes, but by having two products on either side, they have balanced the image.
Pay attention to image copyright
It is impossible to ignore copyright when sharing images since doing so can have serious consequences.
Ensure you review the terms and fine print when using stock photos or templates, and always give credit when using an image or graphic someone else created.
If you are ever unsure about copyright, contact the owner of the art or website to ask them for more information and permission to use.
Use your logo appropriately
When it comes to content that is likely to be shared, like on Twitter, including your logo in your graphic is a great way to make it known you are the original creator no matter how many times it gets reposted.
However, you want to ensure your branding is not intrusive, which you can achieve by displaying it in one of the corners of your graphic.
Doing so will ensure your logo is present without interfering with the message behind the graphic.
Do not ignore representation
From a business perspective, it is easier for a user to see themselves using your product or service if they see someone like themselves enjoying it.
This is especially important in the cosmetics and clothing industry. Someone with a darker complexion may believe you do not carry makeup products for them if you only ever post content that shows people with lighter complexions enjoying it.
Representation goes beyond optics and must be included in your social media posts. View your analytics regularly to determine your audience's demographic, so you can adequately cater to them.
Using the right tools and strategies will enable you to design social media graphics that capture your audience's attention.
A strong visual presence on social media gives users a reason to engage by following, liking, commenting, and buying from you, which you can achieve without expert experience by implementing these social media design hacks.
Want to read our featured articles?
How to Pick the Right Location for Your Small Business
6 Valuable Tips to Choose the Best Payroll Schedule for Your Organization
Why You Should Integrate Paid and Organic Social Media Marketing
Like our content and want even more useful and powerful information to grow your business and advance in life faster?
Consider subscribing to Fund&Grow Premium Coaching where you can find the latest strategies, information, and resources on business development, entrepreneurship, marketing, finance, real estate, as well as Personal and Business credit.
It's also where we share exclusive 0% APR Business Credit Card offers that just hit the market and the most impactful industry trends.  You can also expect to hear from our internal industry specialist team at Fund&Grow for instantly applicable tips and tools to help you experience personal growth and business prosperity.
About Fund&Grow Premium Coaching:
Whether you just launched a start-up or you're already a seasoned entrepreneur, Fund&Grow Premium Coaching will provide actionable methods to improve your day-to-day business operations and achieve maximum sustainable growth.
In our Premium Coaching, you'll read content-packed articles on credit & financial education, inspirational content-packed tips, resources from our industry experts, and tons of actionable content to save you precious energy, money, and time along your entrepreneurial journey. 
Prosperity Pulse is the ultimate Premium Coaching that will connect you to the latest business and entrepreneurial trends in the marketplace so you can act on them before the competition. 
Not only will you get a digital copy of the Premium Coaching, but we will mail you a physical print version each month.  Click here to sign-up for Fund&Grow Premium Coaching.