Home
»
Blog
»
bypass-baggage-fees
How to Bypass Baggage Fees
February 5, 2016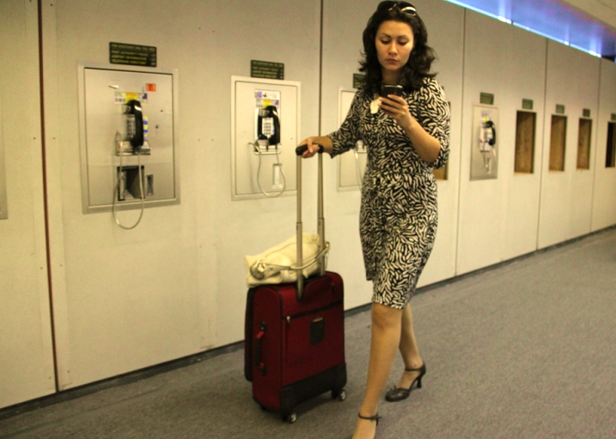 If you got a cheaper airfare on a holiday sale and thought you were really saving some money, were you unpleasantly surprised? When you do the math, many realize that after paying the baggage fees, the deals are not so sweet. According to Trip Advisor, baggage fees can climb up over $200 per person!
Never again! There is a relatively simple solution to avoid these pesky airline baggage fees from now on. All you need to do is to sign up for an airline credit card. The good news is that these are easy to get. You can apply for such cards online, they are usually approved almost instantly and you can often get your card number via email.
What's left is to figure out are the cards that suit you most.
Delta Credit Cards
Delta SkyMiles credit cards from American Express have varying amounts of free mileage including a free first bag on flights for up to eight co-travelers. There is no annual fee for the first year with the Gold Delta SkyMiles credit card. However, in the second year you need to pay $95, (although you do get a $50 credit on your first purchase if made within first three months). In addition, you can take advantage of other benefits like zone two priority boarding, no foreign transaction fees and discounted Delta Sky Club access. Additionally, American Express offers Delta Skymiles credit cards for business, with the same perks.
Credit Cards from United Airlines

United Airlines offers the United MileagePlus Explorer Card, United MileagePlus Club Card, United MileagePlus Explorer Business Card and the United MileagePlus Club Business Card. The first checked bag is free when using the Explorer card, whereas the first and second checked bags are free using the Club card. These chip-enabled cards give you other benefits, including priority boarding, no foreign transaction fees, United Club passes, statement credits and bonus miles.
American Airlines
American Airlines partnered with Citibank and Barclays to offer AAdvantage credit cards. Citibank offers the Citi AAdvantage Platinum Select Card and the CitiBusiness AAdvantage Platinum Select Card. Both these cards have numerous perks. On domestic itineraries, the first checked bag is free for cardholders and up to four traveling companions. Other benefits include group 1 boarding, 25% savings on eligible in-flight purchases and no foreign transaction fees on purchases. The Citi AAdvantage Executive Card is another offered by Citibank. The first bag is free for cardholders and up to eight travel companions on domestic itineraries. You can further earn 50,000 AAdvantage bonus miles if you make $500 in purchases within first 3 months of opening your account. They've also recently added a $100 rebate for cardholders to register for the TSA Pre-Check/Global Entry program. You need not pay foreign transaction fees on purchases. The annual fees vary between $95 and $450, depending on the card.
Additionally, Barclay offers The AAdvantage Aviator personal card which comes in four varieties. The Aviator MasterCard is the entry level card and has no annual fee. For every dollar spent, you get one mile and a 25% discount on in-flight food. The Aviator Blue MasterCard has an annual fee of $49. It provides the additional benefit of 2 miles for every spent dollar. Additionally, there is no foreign transaction fee. The Aviator Red MasterCard offers a free first checked in bag for the cardholder and up to four traveling companions. Privilege boarding and other benefits are also available at an annual cost of $89. The Aviator Silver World Elite MasterCard offers 3x miles on purchases and double miles for hotel and rental car purchases. Privileged boarding and baggage fees waivers are available for up to eight traveling companions. All this, along with many other benefits, is available at an annual fee of $195. This card also offers a $100 credit statement credit to cover the application fees for global entry. As with Citi and Chase, both varieties of the American Airlines branded credit cards are available for businesses.
Southwest Airlines
The Southwest Airlines Rapid Rewards Premier Credit Card is a great choice if you are a loyal Southwest Airline customer. Southwest doesn't charge baggage fees, so your bags fly free and you get 6,000 bonus points after your cardmember anniversary. Also, there are no blackout dates and rewards points don't expire. You also get two points for every dollar spent on Southwest Airlines and Rapid Rewards hotel and car rental partner purchases, as well as one point on all other purchases. The annual fee is $99.
Bringing it all together
Airline credit cards and rewards programs are an easy way to get your bags checked for free. All you need to do is to choose wisely from your list of favorite airlines. There are various other credit cards, like the American Express Platinum and Citi Prestige that give you additional benefits, including freedom from baggage fees whether explicitly or through simply giving an annual airline fee allowance. All offers are subject to change, so always check terms before you fly the next time.
With ever-increasing baggage fees, the consumer is left with few options to save. At the end of the day, it boils down to sacrificing some of your favorite items during a trip, paying the price, or investing in a card that can save for you.
On the other hand, if you are trying to save interest on business loans, our team at Fund&Grow may have just the thing for you! Over the years, our company has helped organizations in all 50 states create 0% interest cash financing to invest in their businesses. We can help you get $50,000 to $250,000 without proof of income and no back-end fees. Contact us today to learn more about how we can help you get the money you need to meet your business goals quickly and easily.