Home
»
Blog
»
average-student-loan-debt-nears-30k
Average student loan debt nears $30K
December 9, 2013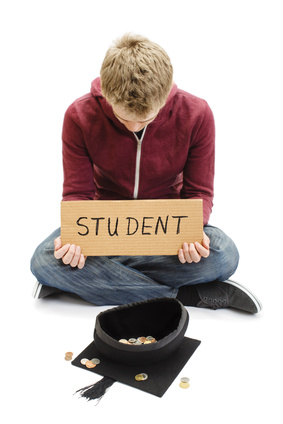 There is no question that a college degree is an integral piece of the puzzle on the road to finding a good job and rewarding career. For example, high school graduates with no college degree had a 17.9% unemployment rate in 2012, while their counterparts with degrees experienced a 7.7% rate (source).
Unfortunately, a college degree is also a very expensive piece of the puzzle! Case in point: The Institute for College Access and Success (also known as TICAS) submitted some startling new data. Their research showed that seven out of every 10 college graduates in 2012 graduated with at least some debt due to tuition ... and the average student's indebtedness was $29,400. That is a full one-tenth higher than 2011.
There are some things that can be done to help reduce – and in some cases eliminate – a portion of the debt. The Department of Education recently opened what they refer to as an online "one-stop shop" that helps counselors assist students with the financial aid process.
TICAS itself had ideas of its own, including the suggestion that we begin to allow students to apply earlier in the process for financial aid. In addition, TICAS President Lauren Asher recommends students take out federal loans because they have payment plans that are more flexible (Pay-as-You-Earn and Income-Based). They are also recommending that Congress vote to double the Pell Grant maximum amount (Pell Grants are given to low-income students).
If these large debt numbers aren't alarming enough, consider that they could actually be even higher. The TICAS data doesn't include transfer students, and students could have borrowed money from organizations or individuals colleges don't know about.
The state with the highest average student debt is Delaware at $33,649, while on the low end New Mexico's average student debt was just $17,994.