*Sponsored Content
Business credit is the ideal capital tool for growing your business while earning a slew of rewards.
Every entrepreneur, from freelancers and startups to big corporations, can leverage and benefit from using business credit cards, but how do you choose which card best suits you among the plethora of options?
Before choosing the right card, you must understand the benefits and rewards you can receive from business credit cards:
0% Introductory APR
No collateral
No need to give up equity in your company
High amounts of funding
Separate personal and business finances
Cashback
Travel/Hotel rewards
Some of these benefits you will reap regardless of the card you pick, such as no collateral or giving up equity in your company and being able to separate your business and personal finances. Most business credit cards offer a 0% APR rate for between six and 12 months.
Choosing a card that fits your spending habits and needs is essential to reaping all business credit cards have to offer. For example, if you use a hotel card for a hotel that you never plan to stay at, those points get wasted, whereas you may instead benefit significantly from cash back.
Here are some of our top picks for popular reward categories:
The Best Card for Startups: American Express Blue Business Cash™ Card
This card offers business owners one of the highest cashback reward rates available for all purchases on a card for small businesses by providing cardholders 2% cash back on all eligible purchases (up to $50,000 in purchases per calendar year). Cardholders will receive 1% after spending $50,000.
In addition to its cashback offer and no annual fee, the American Express Blue Business Cash™ Card offers Expanded Buying Power, which gives cardholders the ability to spend beyond their credit limit. The amount you can spend over your limit is determined by your use of the card, payment history, credit record, and income, among other factors.
Some other noteworthy features:
0% APR on purchases for 12 months
Earn a $250 statement credit after spending $3,000 on purchases within the first three months of your card opening
Cons:
The Best Travel Rewards Card: Ink Business Preferred® Credit Card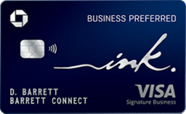 The Ink Business Preferred® Credit Card is perfect for those who travel for business regularly since it offers competitive reward opportunities. Cardholders can earn 100,000 bonus points ($1,000 in cash back or $1,250 toward travel redeemed through Chase Ultimate Rewards®) when they spend $15,000 in purchases during the first three months of the card being opened.
Users earn three points per dollar spent on travel and specified business categories (on the first $150,000) each year while earning one point per dollar on all other purchases.
Other notable features:
Real-time fraud monitoring
Redeem points for cash back, travel, or gift cards (points will not expire as long as the account remains open)
Points are worth 25% more when redeemed through Chase Ultimate Rewards®
No foreign transaction fees
Cons:
No 0% APR introductory period
Annual fee: $95
The Best Straightforward Cash Back Card: Bank of America® Business Advantage Unlimited Cash Rewards Mastercard®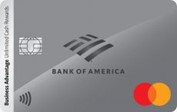 This card is best for those wanting to earn a decent amount of cash back without limits or expiring points. Cardholders will receive a $300 statement credit after spending $3,000 in purchases during the first three months of the account's opening. Additionally, users receive unlimited 1.5% cash back on all purchases without restrictions while given the opportunity to receive up to 75% more cashback (2.62%) on every purchase if they have an open business checking account with Bank of America.
Cardholders can choose how they wish to redeem their points – as a cash deposit into a Bank of America checking or savings account, a credit statement, or a mailed check.
Other noteworthy features:
0% APR for nine months
No annual fee
Cons:
When selecting the perfect business credit card for you, compare options by considering:
The type of rewards they offer
What rewards/points you can earn with each card
Any sign-up bonuses you could qualify for
 If it has annual fees and if the benefits of the card outweigh the cost
If you could receive additional employee cards
Additional features, such as foreign transaction fees
Regardless of the benefit or reward best suited for you, using business credit cards offer business owners of all sizes the opportunity to save thousands while rewarding and simplifying everyday business purchases. As a result, it becomes apparent that business credit is the ideal choice over any other business capital option